MCCOWAN Brenda
McCowan Animal Behavior Laboratory for Welfare and Conservation, University of California, Davis, Davis, United States of America
Animal networks, Communication networks, Contact networks, Multilayer, multiplex or multilevel Networks, Network controllability, Network measures, Network motifs, Resilience and robustness in networks, Social networks, Spatial networks, Temporal networks
manager, recommender
Recommendation:
1
Review:
1
Recommendation: 1
14 Jun 2021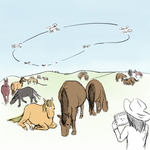 Behavioural synchronization in a multilevel society of feral horses
Feral horses synchronize their collective behavior at multiple levels of organization
Recommended by Brenda McCowan based on reviews by

Frédéric Amblard

,

Krishna Balasubramaniam

,

Krishna Balasubramaniam

and 1 anonymous reviewer
In their article "Behavioural synchronization in a multilevel society of feral horses", Maeda and colleagues (2021) use stochastic multi-agent based modeling to explore the degree to which feral horses synchronize their behavior across multiple levels of organization. The authors compare a drone-derived empirical data set on a feral population of horses with simulated data from multi-agent-based models to determine whether behavioral synchronization of resting and movement states in a multilevel society can be described by one of three models: A) independent model in which horses do not synchronize, B) anonymous model in which horses synchronize with any individual in any unit, C) unit-level social model in which horses synchronize only within units and D) herd-level social model in which horses synchronize across and within units, but internal synchronization is stronger. In a series of 100 simulations for each of seven different models, the authors conclude that evidence for the herd-level model had the strongest support in relation to the empirical data. This finding suggests that connections among individuals in such multi-level societies are rather complex in that local connections are not the only interactions driving social behavior, and specifically synchronization. This approach could be successfully applied to a number of different species that exhibit multi-level organization and possibly fission-fusion dynamics.
This study is especially innovative and interesting for three major reasons. First, the use of drone technology to successfully identify individual animals and generate social networks is highly novel and permits the study of large multi-level social groups of animals that previously have been challenging to study due to limitations in collecting data at an appropriate scale. Second, the comparison of multi-agent-based models with actual empirical data is highly applauded. Most agent-based studies design their parameters from previous empirical studies, (sometimes with questionably simple assumptions) but rarely do they actually compare model outputs to their own empirical data. This is an important next step in the burgeoning field of agent-based modeling. Finally, this study sheds light on the utility of using relatively simple mathematical models to explain highly complex behavior. It also highlights that feral horses can synchronize their behavior beyond clustered local connections which suggests that they possess the cognitive ability to track the behavior of individuals at higher social orders. As the authors state, in a multilevel society, inter-unit distance should be moderate, that is "not too close but not too far" because this strategy simultaneously avoids inter-unit competition while also providing the benefits of social buffering that comes with large group living, such as protection from bachelors or predators.
As the authors dutifully note, there were also some limitations to the study: (1) the relatively sparse empirical dataset that made it difficult to resolve the relative fitness of the two herd-level models (absolute versus proportional social models), (2) the lack of a temporal component that would provide a better understanding on how synchronization flows through the social/spatial network, and (3) the limited variation in the parameters tested which constrained identification of their true function in the model. Such limitations, however, provide fruitful avenues for further development of the model in future studies.
Overall then, this study provides new insights into the processes underlying the behavioral synchronization process and thus nicely contributes to the understanding of collective behaviors in complex animal societies as well as the evolution and functional significance of multi-level animal societies. This study is a fine addition to both the fields of agent-based modeling and the evolution of collective behavior in complex societies. I thus highly endorse its publication.
References
Maeda T, Sueur C, Hirata S, Yamamoto S (2021) Behavioural synchronization in a multilevel society of feral horses. bioRxiv, 2021.02.21.432190, ver. 3 peer-reviewed and recommended by Peer community in Network Science. https://doi.org/10.1101/2021.02.21.432190
Review: 1
04 May 2022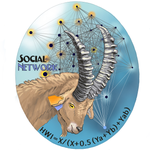 Long term analysis of social structure: evidence of age-based consistent associations in male Alpine ibex
A social network of bucks
Recommended by Gabriel Ramos-Fernández based on reviews by

Brenda McCowan

and

Sandra Smith Aguilar
How do social networks change over the long term? What features are more stable? Are there individuals that maintain their position? What factors determine this? These are the questions that Brambilla et al. (2022) successfully address in their manuscript, for a network of male Alpine ibex (Capra ibex) in the northwestern Italian Alps.
While it is widely acknowledged that animal social networks are dynamic (Pinter-Wollman et al. 2014) not often can we see analyses of this temporal variation using data sets collected on the same individuals for long periods of time. Brambilla et al. (2022) collected such a data set on individually identified bucks from a wild-ranging population for ten years. Alpine ibex populations are sexually segregated except for the rutting period, which justifies focusing a social network analysis on each of the sexes separately. They also present a low degree of fission-fusion dynamics, forming cohesive groups or spreading over larger areas depending, presumably, on the resource heterogeneity. Taking advantage of the fact that temporary subgroups can be observed, Brambilla et al. (2022) measured the degree of association between individual bucks by the time they spent in the same subgroup. Building yearly networks with links thus defined, the authors were able to analyze the changes and stability of networks across the years.
In all yearly networks, all bucks are connected in a single, giant component, which implies either that subgroups were sufficiently fluid in composition to include all possible pairs of individuals at least once, or that bucks formed temporarily large subgroups that included all of them, at least sometimes. This connectedness of the networks, as well as their high link density, prevailed over the whole study and can be said to characterize buck social networks. Other features, like the degree of centralization, differed between summer and spring networks, but in a consistent fashion across years, suggesting that the degree of resource heterogeneity (which is higher in the spring, when the snow melts only at low altitude) influences the association patterns between bucks.
When analyzing the social network metrics at the node level, Brambilla et al. (2022) found a very clear effect of age, with individual degree and eigenvector centrality increasing and then decreasing as bucks aged. In fact, bucks showed mostly peripheral positions in the network of the year before their death. These results add to the accumulating evidence that age and social position are intricately linked (Sueur et al. 2021). The yearly networks also showed strong homophily by age, with bucks of similar age showing stronger bonds than those of different age, and an opposite effect of dominance rank, with bucks of similar rank showing weaker bonds than those of dissimilar rank.
In addition to the obvious integration of these results to those of the female social networks, including the rutting period, it remains to be studied what mechanisms at the individual and behavioral levels could lie behind these patterns: are individuals of similar age also similar in their nutritional requirements? Are they more familiar with each other because of spending time together since young? Are older individuals unable to invest in maintaining social relationships and therefore displaced from more central positions in the network? Are similarly ranked individuals more likely to enter into conflict and therefore avoid one another? Does personality influence patterns, beyond dominance rank or age?
These are open questions that result from a solid study, which counts as its strengths the longitudinal data set, rigorous methods for analyzing networks at the global and node levels and for statistically testing differences and similarities between networks at different points in time and a nicely written literature review with a broad taxonomic scope.
References
Brambilla A, Hardenberg A von, Canedoli C, Brivio F, Sueur C, Stanley CR (2022) Long term analysis of social structure: evidence of age-based consistent associations in male Alpine ibex. bioRxiv, 2021.12.02.470954, ver. 3 peer-reviewed and recommended by Peer Community in Network Science. https://doi.org/10.1101/2021.12.02.470954
Pinter-Wollman N, Hobson EA, Smith JE, Edelman AJ, Shizuka D, de Silva S, Waters JS, Prager SD, Sasaki T, Wittemyer G, Fewell J, McDonald DB (2014) The dynamics of animal social networks: analytical, conceptual, and theoretical advances. Behavioral Ecology, 25, 242–255. https://doi.org/10.1093/beheco/art047
Sueur C, Quque M, Naud A, Bergouignan A, Criscuolo F (2021) Social capital: an independent dimension of healthy ageing. HAL, hal-03299528, ver. 3 peer-reviewed and recommended by Peer Community in Network Science. https://hal.archives-ouvertes.fr/hal-03299528